Free State Project Early Mover: FSP Chairman Aaron Day
Aaron Day moved to New Hampshire from Massachusetts for the Free State Project in July 2009. He lives in Bedford, NH with his wife and their twin children.
"I go to conferences like Freedom Fest where people sit around, just amazed that there are a thousand people at these events, where everybody is really engaged and enthusiastic about liberty. And I say, 'This is pretty much a Saturday in New Hampshire. This is a Saturday being involved in, and living in, New Hampshire as part of the Free State Project.'" —FSP Chairman Aaron Day
Aaron Day is a busy man!
Aaron Day wears many hats; in addition to being the Chairman of the Free State Project, he is also currently:
Chair of the Stark360 PAC, the largest federal Super PAC focused on New Hampshire, which helped 76 pro-liberty candidates win elections to public office in 2014,
Chief Executive Officer of The Atlas Society, an Ayn Rand-based "think tank that promotes reason, individualism, freedom, and achievement,"
Chairman of the Republican Liberty Caucus of New Hampshire,
A member of the Hillsborough County Republican Committee,
And a board member of the Bedford Republican Committee.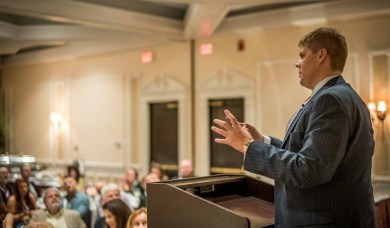 Prior to becoming involved in the liberty movement, Day studied mathematics at Duke University and biology at Harvard University, then spent two decades as an entrepreneur and venture capitalist. He served as Entrepreneur-in-Residence at Industry Ventures, a technology-focused venture capital firm, and Chairman/Chief Executive Officer of Iconomy, an e-commerce application service provider. He also helped implement a revolutionary software system for the largest privately-held managing general underwriter, Stop Loss International, which was later acquired by UnitedHealth Group.
Day has also been a member of the advisory committee for the X-Prize Foundation, and the Boston Business Journal selected him as one of their "40 Under 40 leading business leaders and innovators" in 2004.
"If you're interested in actually promoting liberty, you want to see it actually happen, you want a beacon of liberty you can actually use as a case study, then the Free State Project is the place. And that's why I moved my family here, that's why I joined the board, that's why I'm a financial contributor, and that's why I am very eager to support the Free State Project." —FSP Chairman Aaron Day